8888888888888888888888888888888888888888888888888888888888888888888888888888888888888888888888888888888888888888888888888888888888888888888888888888888888888888888888888888888888888888888888888888888888888888888888888888888888888888888888888888888888888888888888888888888888888888888888888888888888888888888888888888888888888888888888888888888888888888888888888888888888888888888888888888888888888888888888888888888888888888888888888888888888888888888888888888888888888888888888888888888888888888888888888888888888888888888888888888888888888888888888888888888888888888
Helios New Energy Co., Ltd
Helios New Energy Co., Ltd is a high tech enterprise for R&D, manufacture, and marketing of solar products, mainly focus on areas of solar DC charge, and other PV energy storage applications.
Our company have been well experienced in technology of solar DC charge, especially on PWM & MPPT solar charge controllers. We've put our unique concept in R&D work for solar controller products that are widely used in solar stand alone power system, solar telecommunication power station, solar RV power system, and other kinds of power system required solar DC charge source. Other than solar charge controller, we also have much connections with products in other solar DC area, like solar flexible panels/bags (assembly with mono cells and Sun Power cells), lithium battery packs with solar charge controller integrated, and all-in-one solar lights.
HeliosNE never stop moving forward in the progress of research & development of solar DC technology.
We will always keep pace with the latest technical trend in the world, and try to improve our products all the time. The quality is the life of HeliosNE company, and our aim is to provide the world with the best solar DC products, along with the best service to our customers. This is our slogan: Solar & Green for Life! We hope we can help bringing solar energy into our life. We hope in no long time, Helios NE can help build a new world with more and more green power. Solar is not only a source of energy, but also a heart of the earth, our beautiful home. We run our home by solar, and make it green.
Core Members of Research & Development Department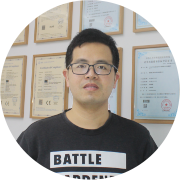 Eng. Deng Bi'an
Mr Deng, the chief engineer of HeliosNE, have committed to solar DC charge area for more than 10 years. He is a master of PCBA design for charge controller, capable of adjusting PCBA layouts and design details according to different requirements of cost limit and function performance. Mr Deng has handled over 100 R&D cases of products involved with solar DC charge in his career, and most of them were solar charge controllers. Many classic charge controllers that you can find in the market were either created directly by Mr Deng, or originated from his thought of design. He, also one of the founders of HeliosNE, now is leading the R&D department.
Eng. Wang Xiong
Mr Wang, who is in charge of software works for HeliosNE, has been coding for solar charge controller since 2009. He was one of the very first people whom code for solar electrical devices in China. Many of the charge controller programs were originated from Mr Wang, and now they have become the standards in solar DC charge area. Not only he is a software engineer, but he also knows much about the electronic technology, making him all-round talent in solar charge controller area. He also is one of the founders of HeliosNE.
Overview On Charge Controller Manufacturing Lines
HeliosNE plant consists of 2 parts: the PCB SMT workshop and product assembly lines. Usually, factory for complete products in China would only have or focus on assembly lines, and leaving SMT works to the other suppliers, but we do both by ourselves. In this way, we can manage to coordinate the arrangement of the productions properly, and shorten the delivery time for our customers.
For more information about HeliosNE, you can contact us by email, calls, or leaving us messages here.